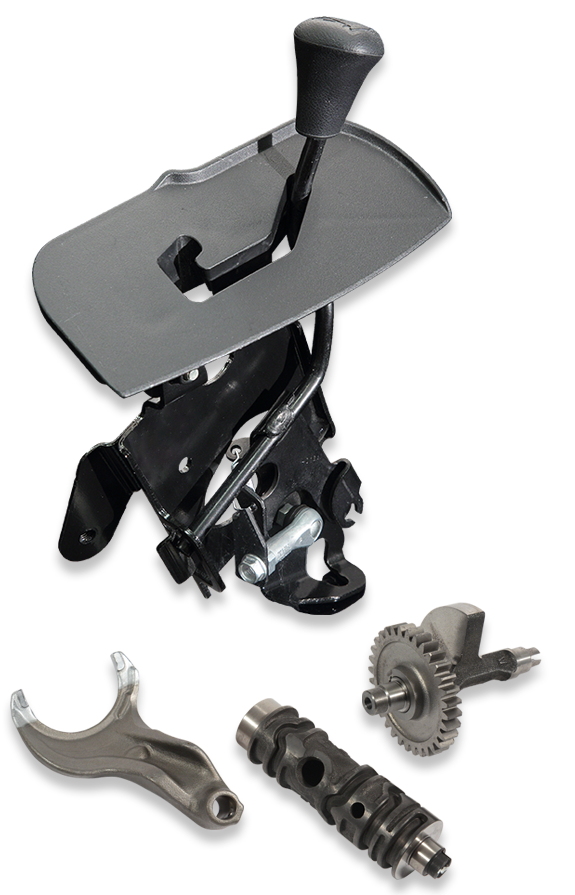 All-Terrain Vehicle
ADA Technologies designs and manufactures Select Lever Shifters for ATV (All -Terrain Vehicles) with water intrusion as well as dirt, dust and debris resistance. This characteristic allows our shifter designs to be used in today's rugged and demanding all-terrain vehicle environments. We can accommodate a variety of shift gate patterns and can design and manufacture a shifter for a sport, recreation and multi-passenger utility vehicles.
ADA Technologies has the capability to provide a wide-range of precision machined parts, used in a variety of smaller, yet demanding engine and transmission applications. As a global leader in transmission related parts, we are able to provide forged parts, made of cast aluminum alloy or hot forged alloy steel, such as chrome molybdenum with heat-treatment. In addition, we offer in-house high precision machining, capable of meeting our customers close tolerance specification and the products extreme conditions.
Our global company is the world's leading manufacturer of shift forks. This part requires precision machining, not only for durability and strength requirement for our customer, but also for the delicate shift feeling required for today's demanding customers. Precision machining for meticulous close tolerance parts is an ADA Technologies specialty.
Ada Technologies has the capability to machine parts with a variety of part shapes and part sizes. Casted shift drums, with cylindrical shape, are just one example of our capabilities. Our global machining center creates grooves of precise tolerance, assuring the accurate control of each shift position.
Our precision machined parts material capability covers a wide range of materials consisting of chrome molybdenum, carbon steel and cast iron. Let our team work with you and your specifications to develop a value-added solution for your project.
Contact Us Today to learn more about our ATV parts – we deliver world-class quality in a timely manner.
---
---